Prepare in Advance for Severe Weather Storms | SERVPRO of El Dorado Hills/Placerville
10/8/2020 (Permalink)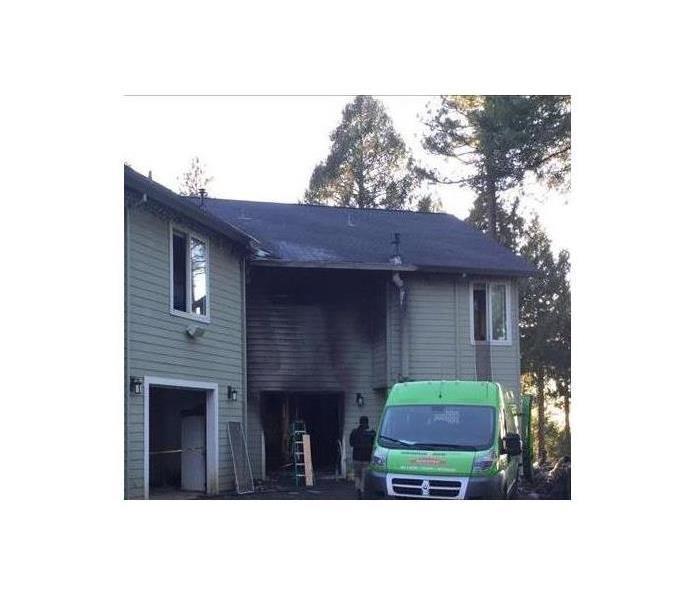 If you suspect storm damage, contact us at SERVPRO of El Dorado Hills/Placerville 916-933-3890. Our team is eager to offer quick assistance!
It is difficult to predict when a storm will happen and the damage it will cause to your home and/or business. Storms can impact you to varying degrees which is why SERVPRO of El Dorado Hills/Placerville recommends you take the approach of advanced preparation to remain as safe as possible in the event of a storm, whether it be wind storm, firestorm, thunderstorms, or snow storms! By taking the extra steps to protect your property, you can be certain that no matter what type of storm moves through your area, you are as protected as possible.
So what can you do to be as protected as possible from the storms?
Prepare your home in advance as much as possible.
While the nature of storm damage can be erratic, by doing some advanced preparation work to protect your property, you can ensure that you are taking the right steps to mitigate any possible damages. For instance, start by trimming back any dead or overhanging trees, as well as securing any objects that could possibly become loose during a wind storm. Even consider installing a home generator for utility usage if your power is out!
Create a family communications plan.
It is important to have a communications plan so you can check in with your family and be certain that everyone is accounted for and safe. Oftentimes, a storm may catch one or more of your family members while they are out and about, set a designated meeting point to regroup after the storm. In other cases, when your family is all at home when severe weather is forecasted through the area, you can move as a group to your designated sheltering area until the storm has passed.
Make sure your emergency kit is stocked.
Always have an emergency kit prepared and fully stocked in your home. The emergency kit can contain everything your family may need, both during the storm and after the fact. Items we recommend are flashlights, batteries, first-aid supplies, non-perishable food and water are all good to keep on-hand just in case.
Consider getting a weather radio.
In our present day, having cell phones has made it so much easier to receive emergency weather alerts no matter where you are, but in case of severe weather or the battery runs low, it is always good to have a backup such as a weather radio. Storms can be unpredictable and cause power outages, or even knock out cell towers, so having a weather radio that is either powered by replaceable batteries or a manual system is smart.
If your home is damaged by a storm, you can depend on us to take care of any damages. Contact us at SERVPRO of El Dorado Hills/Placerville at any hour 916-933-3890 to report damage and receive a rapid response!