Storm Flooding
3/30/2020 (Permalink)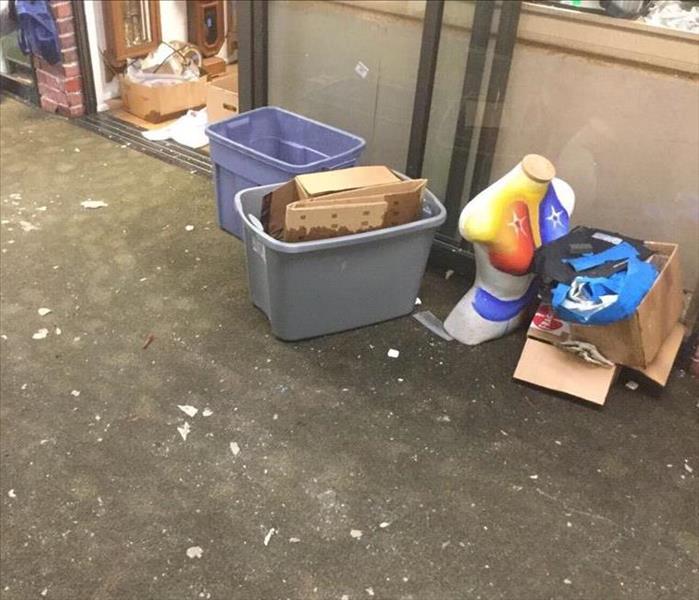 This commercial property in Placerville suffered flooding from a rain event. The water came in the main level, which then flooded the basement below.
Storm damage is very unique, and every situation needs a different strategy. Here in El Dorado County, we see a lot of snow and rain storms accompanied by flash flooding. Cameron Park and Placerville are most commonly affected by moderate flash flooding. Though most people don't think of it as a "storm", SERVPRO considers wildfires to be a storm event as well.
In water storms, SERVPRO of El Dorado Hills/Placerville will take your phone call and dispatch a team to your home or business. The team will evaluate your needs and give you an on-site estimate. Once you have approved the estimate and authorized us to perform the work, our experienced crew will extract all of the standing water. Depending on the recommendations and agreed scope of work, we will either begin removing all of the wet materials, or place drying equipment. Our equipment is usually in place for 3 to 5 days, depending on the materials affected and the severity of the damage. SERVPRO of El Dorado Hills/Placerville has the most up-to-date training to provide you with a smooth and efficient restoration process. At completion of our services, our technicians will thoroughly decontaminate all of the affected areas, if applicable.
SERVPRO of El Dorado Hills/Placerville responds completely differently to fire event storms. In wildfire situations, a large number of calls for emergency service come in before the areas are even accessible. When you call our office at 916-933-3890, a staff member will obtain information about your home or business. We will also ask you questions about access and condition of the structure. Our goal is to have a crew on site at your location to conduct an evaluation within 4 hours of your call.
SERVPRO of El Dorado Hills/Placerville can weather any kind of storm, any time of day.