Commercial Water Damage
7/29/2016 (Permalink)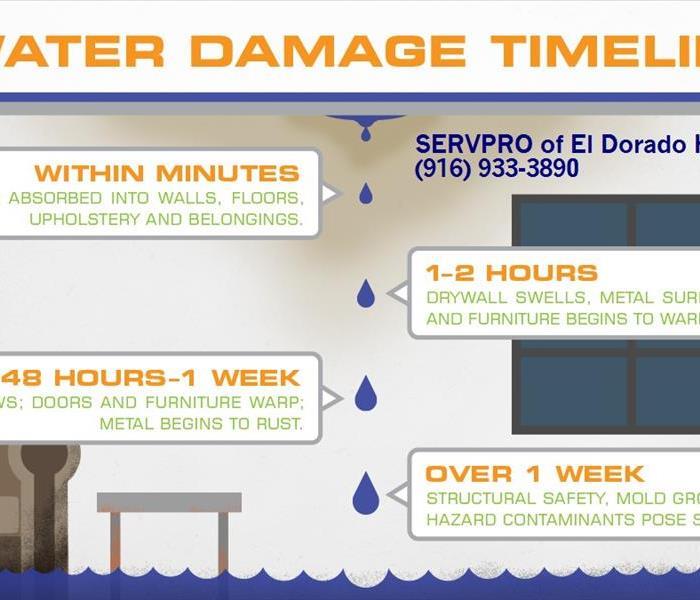 This timeline shows what could happen to your home or business. Don't go to the local hardware store and try to do it yourself! Let us help.
Did you know that all water damages have a timeline? Minutes after your water loss, the materials of your home begin absorbing the water. The materials become saturated and then the damage gradually spreads. Within 1 to 2 hours, drywall begins to swell, furniture begins to stain, and metal begins to rust and tarnish. Drywall can fall from ceilings and walls. After 48 hours, mold can begin to grow and doors will begin to warp.
Your first step is to shut off the water. Your second step is to call SERVPRO of El Dorado Hills/Placerville. We handle residential water damage as well as commercial. With a large team of dedicated and trained technicians, we are faster to any disaster. Not only do we offer reactive services, we offer proactive services. If you are concerned about what your company would do if a pipe burst or a water heater leaks, call us to schedule your Emergency Ready Profile. One of our team members will come to your facility and locate and document all of the important shut-offs and rooms in your building. This service is complimentary and we will provide you with an electronic and paper report for you to distribute to your staff in case of emergency. This report can also be sent to the local fire and police departments at your discretion so they have access to the information in the event of an emergency.
Aside from the general scope of water and fire damage, we also provide building cleaning services. We would be happy to give you an estimate for duct cleaning, carpet cleaning, or generalized cleaning. Just let us know how we can help!
SERVPRO of El Dorado Hills/Placerville services all of El Dorado County including Pilot Hill, Cameron Park, Shingle Springs, Pollock Pines, Rescue, Coloma, El Dorado Hills, Placerville, El Dorado, and Cool.