How We Cleanup Water Damage After A Flood
10/22/2020 (Permalink)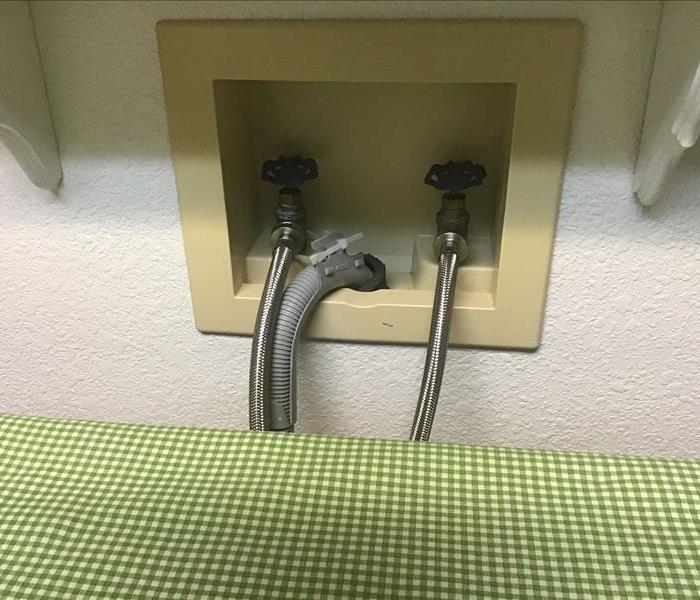 Customer had water valve burst in laundry room. SERVPRO of El Dorado Hills/Placerville ensures all water damage repairs are carried out successfully.
Water damage can come from different sources, and understanding the importance of categorization can help with the water damage impact. Water damage comes in varying intensities, danger levels, and reach of damage. As a homeowner or property owner, you wonder "how a company such as SERVPRO of El Dorado Hills/Placerville handles comprehensive water damage cleanup?" Learn some of the ways our technicians control and repair water damage in our local residences and commercial properties.
Step 1 - Identifying the Source and Water Type
Water damage must be correctly identified by source and water type. For instance, did it come from a storm or flood, or was a pipe burst or leak? There are also different categories of water to identify - either clean, gray, or black, each one with different safety and cleanup protocols. If necessary, our crew will work to stop the water flow as quickly as possible, to avert further damage to your home.
Step 2 - Surveying Damage and Mold
After we understand the type of damage we are handling, our technicians search the home visually and utilize moisture detection equipment to find out what areas have been affected, and what further action needs to be taken. Lastly, our crew looks for signs of mold growth, which takes priority in a cleanup operation.
Step 3 - Furniture and Water Removal
Next step is to remove all the furniture from the affected areas, and pump out the water if necessary. Our company uses industrial-grade machinery to pump water from the interior to the exterior of the home, with either a portable or a truck-mounted pump.
Step 4 - Drying and Odor Treatments
Additionally, we bring out more heavy machinery to begin drying and deodorizing the affected area, to make sure no more damage or mold growth occurs and any odors are removed.
Step 5 - Carpet Removal and Final Cleaning
In some cases, the carpeting in a room will need replacing. We make sure to evaluate carpeting carefully for moisture so as not to incur extra expenses. Sometimes, a cleaning may only be necessary, particularly when water damage is contained early on. Once the final cleanup and sanitization is completed of the surrounding area, the furniture is brought back into the home or rooms affected.
SERVPRO of El Dorado Hills/Placerville employs certified and well-trained technicians who are experienced with all kinds of water damage restoration and cleanup jobs. If you need our services for any type or volume of water damage to your home, call us at 916-933-3890 for 24/7 emergency service. We provide water cleanup services in Sacramento, Folsom, El Dorado Hills, Cameron Park, Shingle Springs, Jackson, and Placerville.