4 Ways to Prevent Water Damage in your Home while on Vacation
10/14/2020 (Permalink)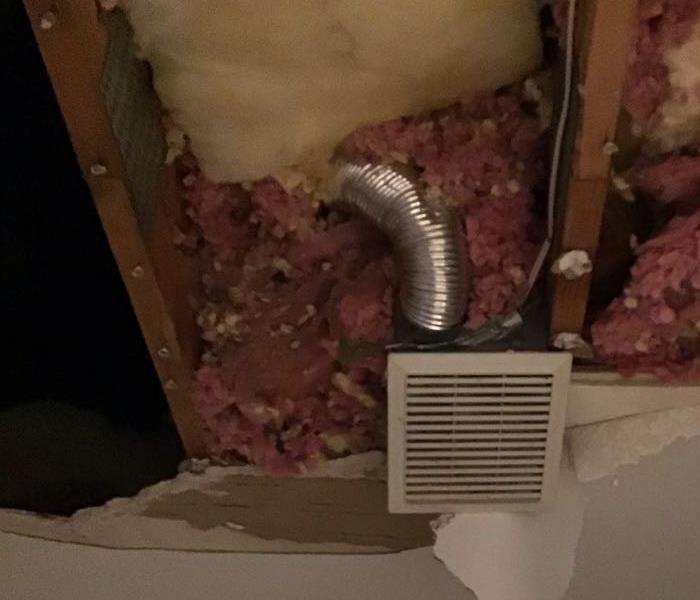 Copper lining in attic leaked causing water damage to the bathroom ceiling, which collapsed breaking the vanity.
The worst time for water damage to occur is when the homeowner is away.
Picture this: you come home from vacation to find your home damaged with water. Your first thought is "who do I call for help?" If you experience water damage while away, get the service of a professional like us, SERVPRO of El Dorado Hills/Placerville.
Here are some tips to prevent water damage:
By turning off the main water valve, this controls the water that enters your home. Turning off water sources could save you from headaches when you return. If the water main is not turned off, pressure could build up in pipes, which may lead to leaks or a pipe burst, causing your house to become flooded. If you have never shut off the main water valve, make sure to test it by turning on a faucet before you leave
Before leaving the house, check your washing machine, dryer, dishwasher, and refrigerator(s) for leaks. Consider replacing damaged supply or drain lines as well. Do not forget toilets or sinks, these are where common leaks occur!
Have someone checking in on your home
Consider having someone check up on your home regularly if you plan to be away for several days or weeks. Having someone check on your home could help detect any water leak issues. At the same time, you are gone and prevent any damages from escalating if detected and fixed early.
Check Your Home For Leaks
Pay attention to the pipes under your sinks or behind your appliances. Deal with any rust, cracks, pipe damage, or drain repairs as soon as possible. Check your windows and doors for any loss and fix to prevent rain from entering while away.
As a professional restoration company, SERVPRO of El Dorado Hills/Placerville, we take pride in our expertise, and with our "restore" versus "replace" mentality, we can help you save money while preserving precious keepsakes that can't be replaced. Call us at 916-933-3890 to ensure all water damage repairs are carried out successfully to guarantee the safety of your property.