SERVPRO of El Dorado Hills/Placerville - The Right People To Call When The Need Arises
11/20/2020 (Permalink)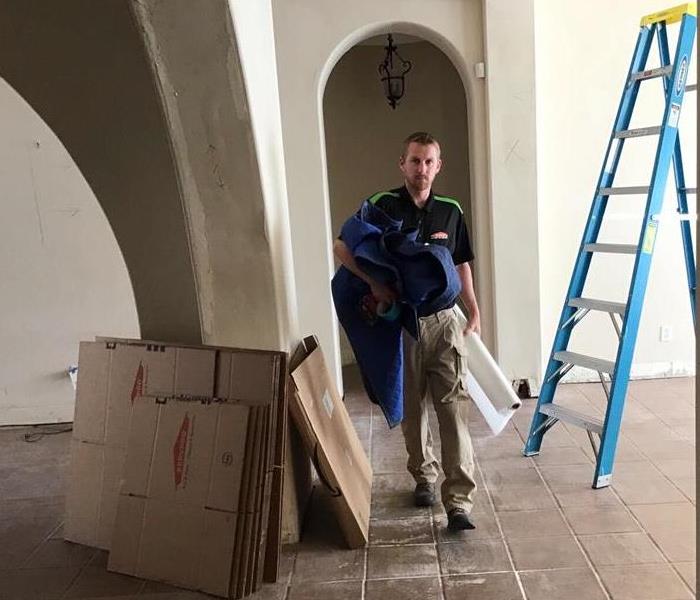 Our technician in-action working on a water damage in El Dorado Hills. Call us today 916-933-3890 for various restoration needs!
SERVPRO of El Dorado Hills/Placerville is versed on all aspects of commercial and residential work!
We all know that unexpected emergencies happen. When they do happen, a prompt response can save your business a lot of time and money. The faster that an experienced mitigation team like us, SERVPRO of El Dorado Hills/Placerville, can get on the scene, the better! By responding immediately, it helps to limit the damage to the property, resulting in less demolition. The hassle of mitigation alone is bad enough, but the hassle of reconstruction is often more disruptive to your life and your business.
Not all the services that SERVPRO of El Dorado Hills/Placerville offers is a result from emergencies. Some of these services happen as a result of an unnoticed event like a dripping water line, or they could be general cleaning or maintenance needs. These services can be scheduled around your needs and can even be performed after hours if needed. SERVPRO of El Dorado Hills/Placerville are the experts when it comes to water and fire damage, mold remediation, odor control, general cleaning, COVID cleaning, biohazard such as crime and trauma scene cleanup, and reconstruction services with our sister company, Sierra Renovations. It doesn't require an emergency to get to know what we can do to help you in your time of need!
SERVPRO of El Dorado Hills/Placerville is a diverse, community-based franchise that is well respected for its expertise in servicing the customer. We can perform on any level and any size job from both the residential and commercial segments. We understand what it means to experience a loss in your home or work, and we handle each job specific to the needs of each customer.
Feel free to call us 24/7 at 916-933-3890, we service for water damage, fire damage, mold remediation, biohazard and trauma, and odor removal in the following areas: Cameron Park, El Dorado Hills, Placerville, Shingle Springs, and Diamond Springs.