6 Steps to Water Damage Restoration
10/30/2020 (Permalink)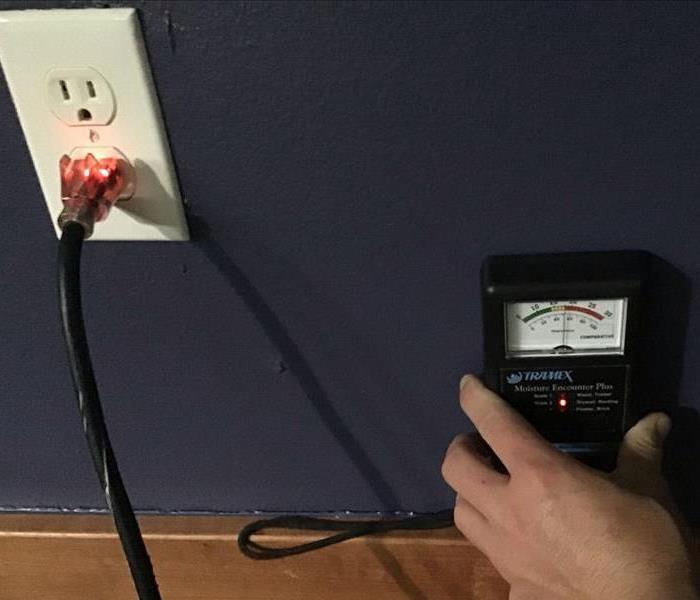 Our technician doing a moisture reading on the walls of a home for water damage in Cameron Park. Call us if you need help, at 916-933-3890.
When your property incurs water damage, whether it is a water ring on the ceiling, a leaking pipe, loose faucet, or a flood of standing water, acting quickly is important! When you first discover the water damage, you can count on SERVPRO of El Dorado Hills/Placerville to help you. We have a six-step restoration process to restore your property to its pre-damage condition.
Here are the six steps to water damage restoration
Initial Emergency Contact
You can call us 24 hours a day, 7 days a week to begin the water restoration process because taking immediate action is crucial after the water damage occurs. When you call us, we will ask questions to get an overview of the damage and to help us determine what resources we will need to dispatch accordingly to resolve your situation.
Inspection and Damage Assessment
When we arrive on the scene in response to water damage, we will do a detailed property inspection to assess the damage, identify the water source, the category of water, and check for safety concerns. From there, we will develop a thorough plan of action and provide an estimation for our work.
Utilizing our extraction and pump units, the water extraction process will remove most of the moisture. We will start this process as quickly as possible to lessen the likelihood of secondary damage occurring. We can also help you move out of your belongings if they might be damaged as well.
After the excess water has been removed, we can begin fully drying all porous materials that have absorbed water. Our industrial-grade equipment moves air quickly and helps moisture to evaporate as fast as possible, which will dry out floors, walls, and carpets as well as discourage mold growth.
After sustaining water damage, impacted surfaces will typically require professional cleaning. In addition to structural cleaning, we will clean your belongings that are able to be restored. We will also do odor removal to prevent the musty odor that water-damaged furniture can develop.
The final step is ensuring that your property is restored to its pre-water condition. This will involve things like drywall and flooring repairs or even reconstruction. By working with SERVPRO of El Dorado Hills/Placerville, you are working with a company that can handle all elements of the restoration, including the difficult reconstruction parts that truly restores things back to their pre-damaged state. We also handle restoration and construction.
Remember to call SERVPRO of El Dorado Hills/Placerville at 916-933-3890 if water damage occurs in your home or business! We're Faster To Any Size Disaster.