What Are The Benefits of Hiring A Water Damage Restoration Company?
12/21/2020 (Permalink)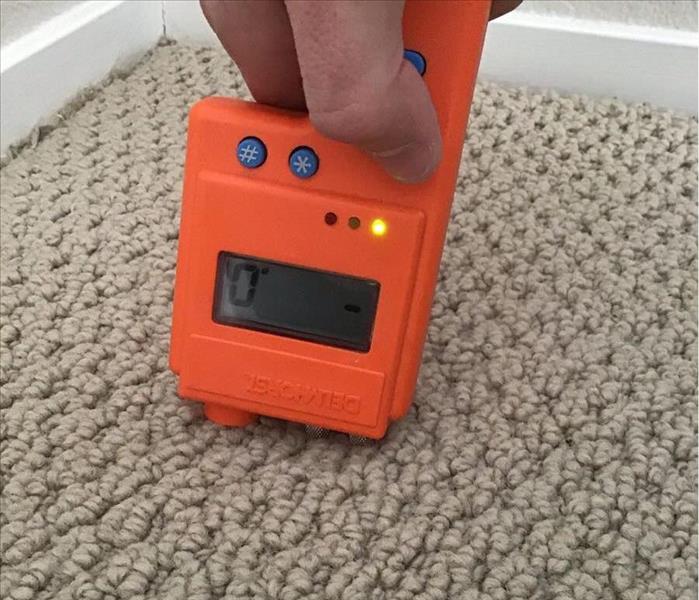 We have the proper equipment to test for water damage in your home! Call SERVPRO of El Dorado Hills/Placerville today at 916-933-3890.
Water damage may be the most common form of property damage, but nobody likes to deal with it. Whether it comes from a leaking pipe, a heavy rainstorm, or appliance failure, water causes a great deal of damage to both building materials and furnishings, and it will continue to wreak havoc until it's removed. This is one job it's better to leave to us, SERVPRO of El Dorado Hills/Placerville. We handle water damage restoration for a variety of reasons, along with other services.
We Find Hidden Water Damage & the Leak Source
Sometimes it is easy to locate the source that caused the excess water in your home; for instance, a failed water heater is spraying water all over, is most likely the culprit. In other instances, the source may be tougher to find, like a broken pipe in a wall or a crack in the foundation can easily be overlooked. Whatever the source, if the leak is not corrected in a timely manner, there will be a never-ending cycle of flooding and cleanup until it is fixed. Water can get into places most people wouldn't think to look and cause damage that can go undetected until it's too late. Our highly trained restoration technicians know how and where to look for water damage, as well as for sources of leaks.
Heavy Duty Equipment & Products
As water damage mitigation professionals, we utilize the most advanced equipment and products in the industry. Our equipment is usually not available to members of the general public, often because using them requires specialized training. Carpet vacuum cleaners aren't designed to remove water, and commercially available shop vacuums may not be able to handle an extensive flood. Here at SERVPRO of El Dorado Hills/Placerville, we own heavy-duty dehumidifiers, air movers, fans and vacuums. Our water extraction equipment can remove large amounts of standing water and the dehumidifiers and air movers can even extract water from damaged materials. We even have meters to do moisture readings and moisture mapping. All done by trained professionals so secondary damage can be prevented.
Fast Responses & Time Saver
When you find signs of water damage in your home or business, it is important to act quickly before even more damage occurs. Wasting time tracking down resources and manpower gives rot and mold more time to ruin furnishings and building materials. That's why it's best to call a water damage restoration company that offers 24 hours, 7 days a week emergency services. Leaving cleanup to the professionals frees you and/or your staff to continue running your life or your business.
Reducing Costs & Insurance Help
Working with a water damage mitigation company like us, SERVPRO of El Dorado Hills/Placerville may save you money in the long run. As a restoration company, we will also help you file a claim with your insurance provider for any property that was damaged by the flood or by mold. Since we frequently work with insurance adjusters, we know exactly what paperwork is necessary and the best ways to file claims!


No matter if it comes from rain, sewage backups, or broken pipes, we will respond quickly to begin the mitigation process before the damage can spread further or harmful mold or bacteria can begin to grow. Our highly trained technicians remove excess water; dry, dehumidify, and disinfect the area; restore structural elements and personal items; and remove all traces of mold from your property.

Any time you find excess water in your home or business, call the water damage restoration experts at SERVPRO of El Dorado Hills/Placerville at 916-933-3890.