Does Your Home Suffer From Smoke Odors? Contact SERVPRO of El Dorado Hills/Placerville!
11/6/2020 (Permalink)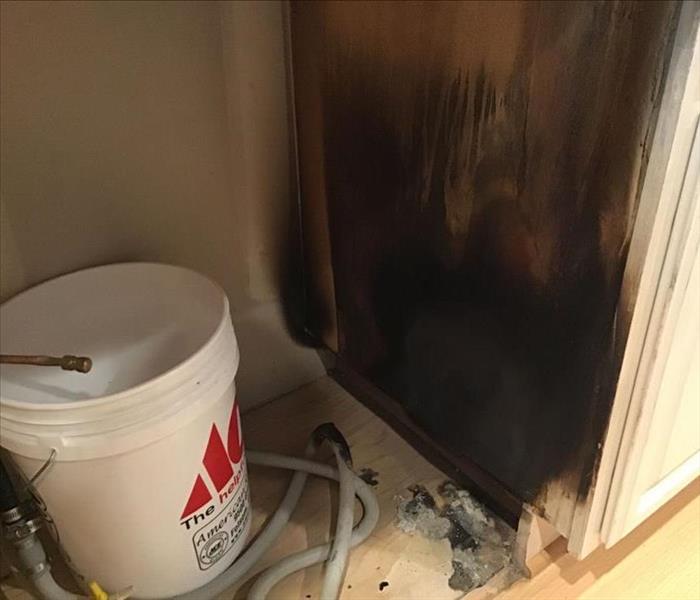 Customer turned on the kitchen gas stove and when it lit, it burst, damaging the cabinets. They reached out to SERVPRO of El Dorado Hills/Placerville!
You are cooking Thanksgiving dinner this year for everyone and just realized that your turkey has burnt in the oven. There is now a small kitchen fire and smoke has permeated your home, odor particles spread quickly onto the walls, the furniture, your carpets, and the smoke odor lingers in your property. Your first thought would be what do I do? It can be overwhelming, which is why SERVPRO of El Dorado Hills/Placerville is your most trusted restoration company in El Dorado County
So how does SERVPRO of El Dorado Hills/Placerville get rid of the soot and smoke odors in your home?
We use specialized equipment and chemical treatments to help tackle fire odors, which will assist us in removing the smoke and soot from the ceilings, walls, and other surfaces. We utilize HEPA air scrubbers with charcoal filters to trap odor particles from the air. We physically remove soot from all surfaces with specialized cleaning agents. SERVPRO of El Dorado Hills/Placerville will completely deodorize your home at the completion of cleaning.
What machinery do we use for odor removal?
Hydroxyl generators which use a UV light to destroy the odors
HEPA air scrubbers, filtration and fogging equipment to deodorize the structure
Ozone generators that use oxygen in the environment to eliminate odors.
Is it possible to clear an entire house of fire odor?
Part of fire damage restoration is to always get your home or business to its pre-fire condition. The technicians of SERVPRO of El Dorado Hills/Placerville take extra care to ensure that residual odors are removed completely at the end of the service.
Have any questions about fire, smoke, or soot damage in your home? Call us, SERVPRO of El Dorado Hills/Placerville today at 916-933-3890 to inspect and assess the fire damage! We want to help you get back into your home as soon as possible!