Tips For Choosing The Right Biohazard Cleanup Service
3/25/2021 (Permalink)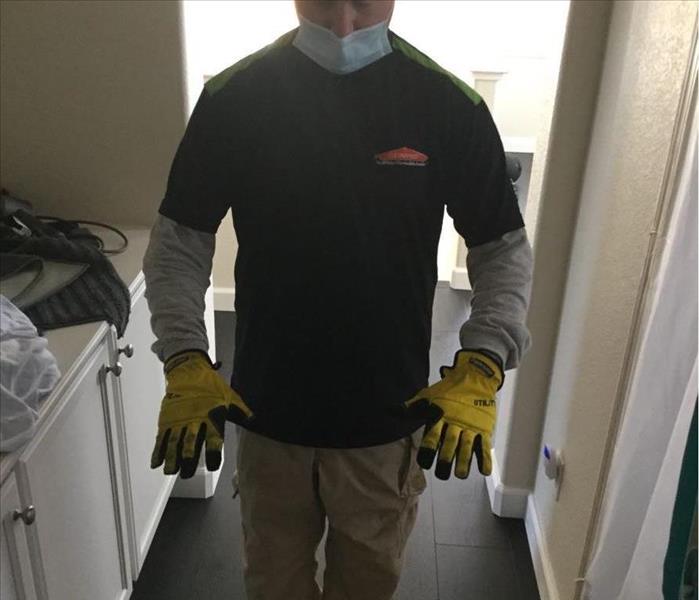 Our staff wearing PPE to handle a biohazard in Diamond Springs. If you need us, call today for biohazard cleanup services at 916-933-3890.
Always Choose Trained Professionals! Here at SERVPRO of El Dorado Hills/Placerville, we are trained to safely remove biohazards and dispose of them properly.
A biohazard cleanup situation is usually traumatic: no one should have to deal with the personal impact of cleaning up after the traumatic loss or injury of a loved one. Professionals like SERVPRO of El Dorado Hills/Placerville can get a situation cleaned up quickly, compassionately, and discreetly.
A biohazard cleanup can be unsafe: Federal regulations classify all human and animal remains, including blood, urine, feces, vomit, and bodily fluids, as biohazards. This is because they have the potential of carrying life-threatening pathogens such as Hepatitis B and C, AIDS, HIV, MRSA, Tuberculosis, and many more. The safe cleanup and removal of bio-hazardous materials involves extensive analysis, detailed work, and the use of state-of-the-art cleaning and odor removal technologies.
In many cases, homeowners insurance can cover part or all of the cost of traumatic biohazard cleanup. You can minimize or eliminate your out-of-pocket expenses by working with licensed and bonded professionals such as SERVPRO of El Dorado Hills/Placerville who will deal with insurance companies regularly, saving you one more headache in this already difficult process.
We provide cleanup and recovery services for many biohazard situations. These include the following:
Sewage backups
Crime scene residues
Fingerprint dust
Suicide/death accidents
Homicide cleanups
Blood cleanup
Accident cleanup
Medical waste spills
Needle cleanups
Hoarding situations
Animal waste/remains
Chemical spills
Tear gas cleanup
Meth lab cleanup
Do you need biohazard cleanup? Call Us Today 916-933-3890