Attic Mold in Camino, What Do I Do?
3/16/2021 (Permalink)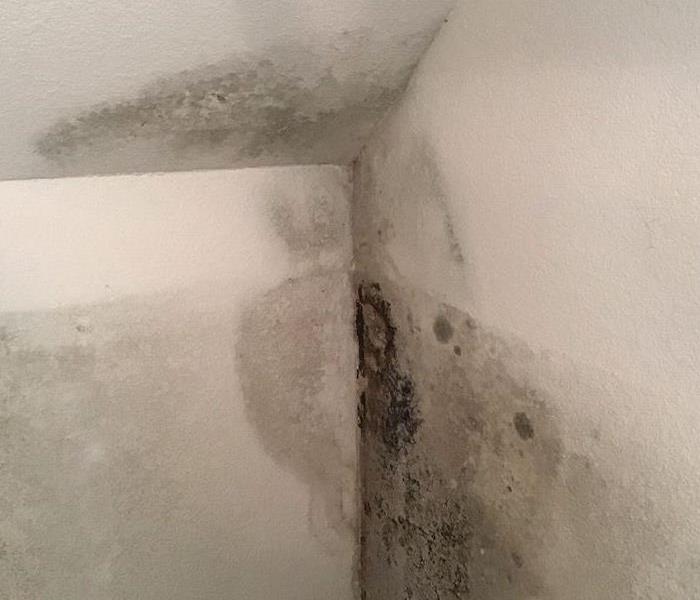 A customer had attic mold in Camino area, and called SERVPRO of El Dorado Hills/Placerville to inspect and what to do next. Call us with any questions
You may not think much of mold in your attic since it is outside of your living area. However, it can still wreak havoc. Mold rots wood and can damage your roof, ultimately, undermining your home's structural integrity. Additionally, if you are planning to sell your home, an visible mold could instantly derail the sale.
So why does mold grow in the attic?
The main cause of attic mold is improper ventilation. In colder climates, we tend to heat our homes in the winter, leaving hot air to escape through the attic. This occurs efficiently in attics with proper ventilation, but attic mold can occur if the hot air meets the cold surface of the attic roof and creates condensation.
Other reasons for mold growth in the attic are:
Water incursion from a roof or siding leak that has yet to be repaired
Improperly installed or insufficient insulation that allows heat and moisture to rise from your home into the attic
Inadequate attic ventilation that allows the attic to heat up and fails to dry u p any accumulated moisture
Incorrect venting from bathrooms, tumble dryers, and kitchen range hoods that send warm, moist air into the attic instead of outside
So you have discovered attic mold in your home, what do you do next?
Stay out of affected areas
Turn off the HVAC system and fans to prevent further spread
Contact SERVPRO of El Dorado Hills/Placerville for mold remediation services
Cleaning up attic mold is difficult without the help of a professional. SERVPRO of El Dorado Hills/Placerville specializes in mold cleanup and restoration, and we service the following areas: El Dorado Hills, Diamond Springs, Shingle Springs and Cameron Park. We are available 24/7 to help you restore your home or commercial property. So give us a call at 916-933-3890!