Common Causes of A Leaky Ceiling In An Apartment Building
4/2/2021 (Permalink)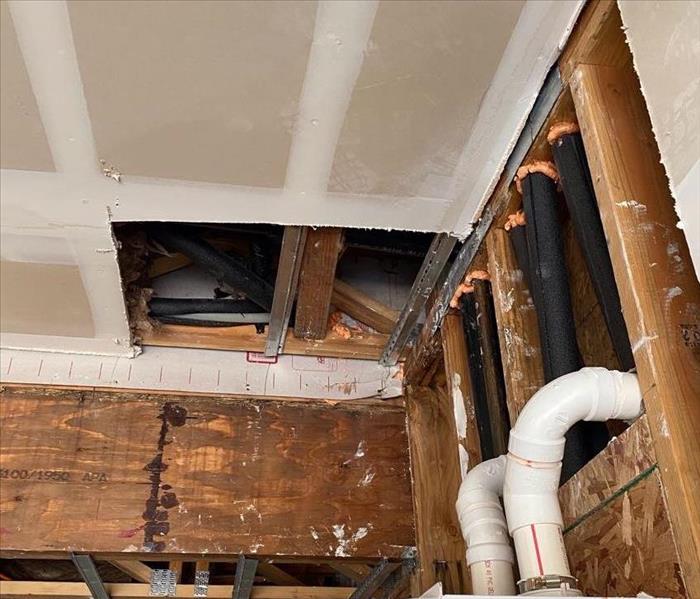 A customer called about water damage, ceiling leaking water in Somerset. We travel through El Dorado County to help with restoration services! Call us
Leaking is the most common problem in apartments. It is a serious business and if left unchecked, it causes major damage. Apartments are subjected to structural ceiling leaks the same as any home. Because there are different people living on other floors, structural may not always be the cause of leaks. Ceiling leaks can be a frustrating issue, so it is best to ascertain where the leak is coming from, if possible, then notify the apartment manager as soon as you can.
BATHROOM LEAKS
The two most common types of leaks in a bathroom are from the toilet or the bathtub. The leak could be caused by a leak in your upstairs toilet. A toilet leak is usually a result of some sort of a break or defect in the seal of the wax ring that adjoins the toilet to the floor. Every time a toilet is flushed, it causes water to penetrate through the bathroom floor and into your ceiling. A bathtub leaks if the drain gasket is bad, or the caulking has deteriorated around the sides of the tub. Each time the tub is used, splashed or draining water leaks through the floor and comes through the ceiling.
PLUMBING LEAKS
Plumbing leaks generally are from pipe joints or drains. Pipes run through walls, so a plumbing leak may begin where the ceiling and the wall come together. The ceiling may show signs of leaking water. The wall directly beneath the leaking ceiling also may show signs of water damage as the water runs down the inside of the wall.
ATTIC LEAKS
Water leaks occur through roof failure, ice dams, and water condensation or frost build-up inside an attic. Rainy weather causes the first type of leak. An attic above an apartment may leak and deposit water anywhere onto a ceiling wall and causes leaking at any point.
If you are a renter or a property manager or owner and you think there might be a water damage situation, do not forget to call SERVPRO of El Dorado Hills/Placerville. We are dedicated to responding immediately when you contact us. A fast response lessens the damage, limits additional damages, and reduces the overall potential cost. Please call us SERVPRO of El Dorado Hills/Placerville at 916-933-3890.