Late Night Fire Damage to El Dorado Hills Home
10/6/2021 (Permalink)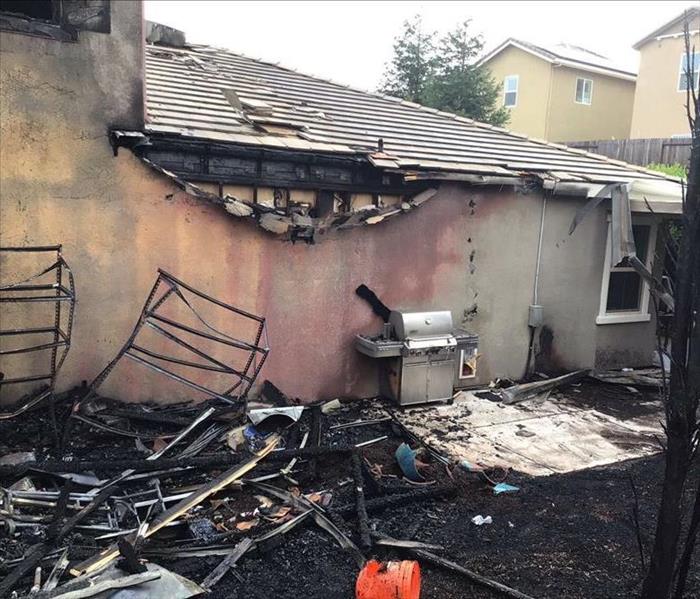 Fire damage affects the structure and smoke damage affects the contents throughout your home. SERVPRO of El Dorado Hills/Placerville is here for you!
SERVPRO of El Dorado Hills/Placerville receives many calls throughout the day for all types of water/fire/biohazard/smoke/mold services. There are late nights where emergency losses happen and we dispatch our team to assist you after hours.
A recent home in El Dorado Hills was affected by fire damage leaving it with no electrical power. A shed caught on fire and spread to the side of the house. With fire damage comes smoke damage. There was smoke damage throughout the home which activated the fire sprinklers and resulted in water damage as well.
After receiving the initial call, we dispatched our team of fire technicians to the site to begin emergency services which consisted of water extraction, equipment placement, wipe down surfaces, cleaning debris, and removing wet drywall and insulation on ceiling and walls as well as carpet and pad to prevent further damages.
With fire damage or smoke damage, another concern SERVPRO of El Dorado Hills/Placerville would address and intend to take care of is the contents and textiles in your home. If needed, SERVPRO would coordinate the cleaning for contents, textiles, and electronics. Salvageable content will need to be cleaned whereas unsalvageable content will need to be replaced which is discussed with the customer upon assessing the house.
SERVPRO of El Dorado Hills/Placerville aims to have your home return to its preloss state. We are available 24/7 to answer your phone call should you have any questions and provide emergency services, day and night. We can be reached at 916-933-3890.