Christmastime in the Foothills
12/7/2015 (Permalink)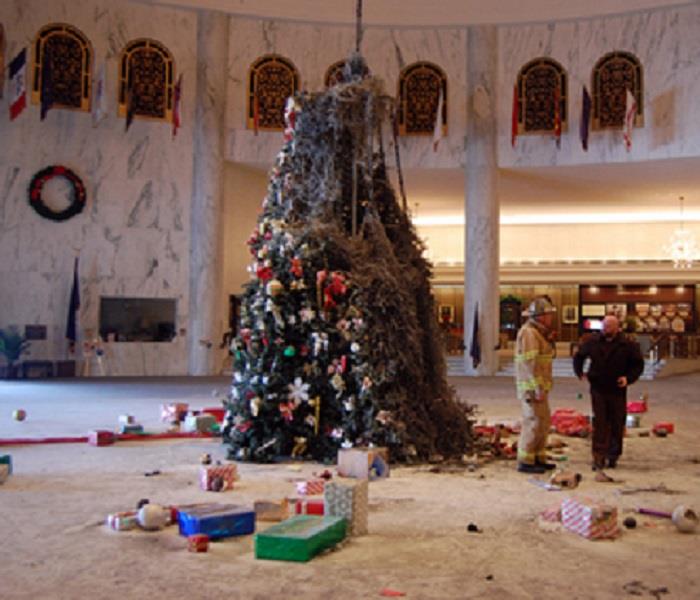 Your tree can make or break your holiday season. Call us if you experience a fire in the El Dorado foothills this holiday season.
The cold air has finally arrived, bringing rain and snow, like we all had hoped. Now it is time to gather around the Christmas tree with our friends and family, celebrating our love for one another and our anticipation of the New Year.
While Christmas trees are absolutely a source of joy around the holidays, with their amazing smell and all of the colorful lights and ornaments, they can also wreak havoc if you are not careful. The National Fire Protection Association reports that, "National estimates of reported home structure fires derived from the U.S. Fire Administration's National Fire Incident Reporting System (NFIRS) and NFPA's annual fire department experience survey show that in 2009-2013, Christmas trees were the item first ignited in an estimated average of 210 reported home structure fires per year, resulting in an annual average of seven civilian fire deaths, 19 civilian fire injuries, and $17.5 million in direct property damage."
The NFPA also reports that four out of five Christmas tree-related fires occurred in December and January, with 44% in December and 37% in January. Christmas tree fires result in high-heat fires with very "wet" smoke. If you do experience this unfortunate loss, please call our office at (916) 933-3890.
SERVPRO of El Dorado Hills/Placerville will help you recover from your fire all the way from El Dorado Hills to Rescue, Pilot Hill, Coloma, Kyburz, Placerville, and surrounding areas. Call us if you have any questions. You will be connected with a qualified technician who can assist you with where to go next.
Don't let your Christmas season be covered in soot. We can help. Restoring your fire-damaged contents, soot-covered walls, and smoke-filled home is what we are here to do. The only thing that should be covered in soot is Santa. Let us help you with the rest. Thank you for trusting us at SERVPRO of El Dorado Hills/Placerville with your home and family.
Please follow the link below for helpful tips, provided by the National Fire Protection Association.
http://www.nfpa.org/safety-information/for-consumers/seasonal/winter-holiday-safety/christmas-tree-fires/christmas-tree-safety-tips