Why Should You Leave Mold Remediation to Professionals?
4/9/2021 (Permalink)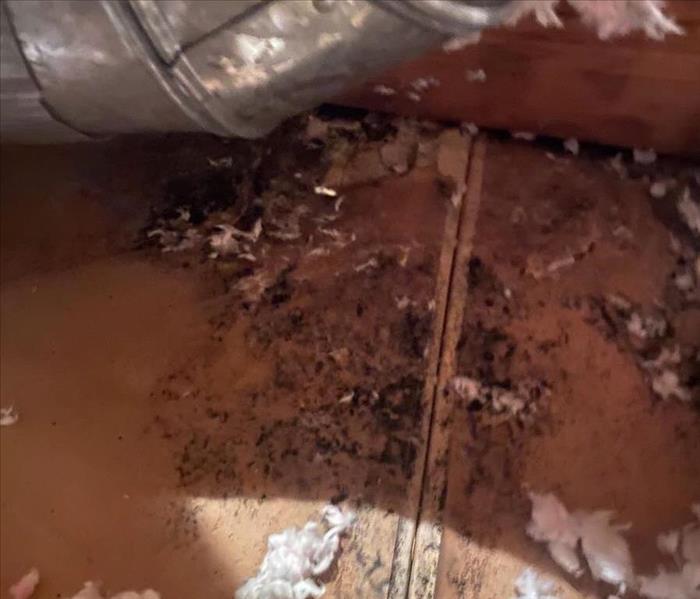 A customer called for mold damage and remediation in Coloma. We, SERVPRO of El Dorado Hills/Placerville, responded immediately! Call us today!
Here is why you should leave mold remediation to the professionals at SERVPRO of El Dorado Hills/Placerville
Attic mold removal is difficult
Mold growing on rafters, trusses, or sheathing in the attic is extremely difficult for a layperson to remove. This is because of poor access, tight quarters, uncomfortable temperatures, and unsafe working conditions caused by exposed insulation and roofing nails. Professionals have the tools and experience to perform the job to your expectations.
Post-remediation testing puts your mind at ease
If any mold remains, it can spread. How will you know if the mold was removed completely? Professional testing can tell you whether adequate cleanup was achieved.
Personal protective equipment is important
Do you have the gear to protect yourself against harmful mold exposure? At minimum, professionals use an N95 respirator and eye, hand, and clothing protection.
To make use of today's best mold removal technology and begin the cleanup process without delay, please contact SERVPRO of El Dorado Hills/Placerville. With our help, it will be "Like it never even happened."
Why Choose SERVPRO of El Dorado Hills/Placerville?
SERVPRO of El Dorado Hills/Placerville is locally owned and operated, and serves Shingle Springs, Cameron Park, Diamond Springs, Coloma, El Dorado Hills, Rescue, and Pilot Hill. Our certified cleaning and restoration technicians are faster to any size disaster. Providing emergency cleaning and restoration services 24 hours a day, 7 days a week - including all holidays! You can expect an immediate response time, day or night. 916-933-3890.